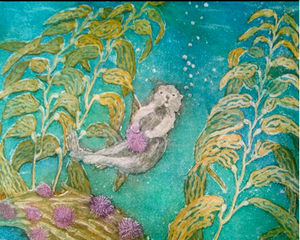 Gotta Go: Seaotter Blue (two-plate etching)
Let's Dance: two Garibaldis in front of a nesting spot with a yearling in the corner. Aquatint one-plate etching with iridescent watercolor.
The etchings are Aquatint, Aquaforte and sugar lift, on copperplates, printed on Rives BFK heavyweight acid free Cotton paper. After I handcolored the plate and printed it on paper I enriched the etching with iridescent watercolor. This color includes mica and will give the etching a golden shimmer when exposed to sunlight or a spot light. This effect is not visible online... only if you see them in original.
The Image size for the Let's Dance 8x10 available as a 16x16 matted  and a couple of framed options.
---
More from this collection